Articles
Digital Communications: Get More Out of GhostDraft
Last updated: February 5, 2021 | 4 min read
In these unprecedented times, using digital technology to communicate with insureds has never been more critical.
As the global pandemic changes the way we work, live, and communicate, it is imperative that insures deliver time-sensitive and relevant communications to customers and stakeholders in the format they prefer. While many insurance carriers have been moving slowly towards digital adoption over the last decade, these projects are now a top priority.
The GhostDraft CCM suite is designed to help insurers like you connect and engage during these challenging times. In this article, you'll learn how you can use GhostDraft omnichannel features to facilitate your digital communication efforts using one template to deliver to each customer's preferred channel.
LiveDocs
Recently, GhostDraft launched LiveDocs, a modern, highly interactive, and secure document format to enhance insurance communications and enable customer self-service. Using web technology, insurers can compose one message template that adapts to any channel and any device upon delivery for enriched customer experiences.
LiveDocs supports interactive forms, graphs, and charts with live calculators, AI-driven voice query, and personalized video to deliver instant and relevant information. This document format is encrypted, unchangeable, and requires authentication to ensure information security.
LiveDocs communication can be used to deliver billing statements, policy quotes, onboard new policyholders, and manage claims correspondence all in one place.
GhostDraft LiveDocs empowers insurers to deliver actionable content to each customer while reducing call center, print, and postage costs. It helps insurers manage omnichannel content to send effective and consistent communications to the right customers at the right time.
To learn more or get started with LiveDocs, reach out to our insurance CCM experts.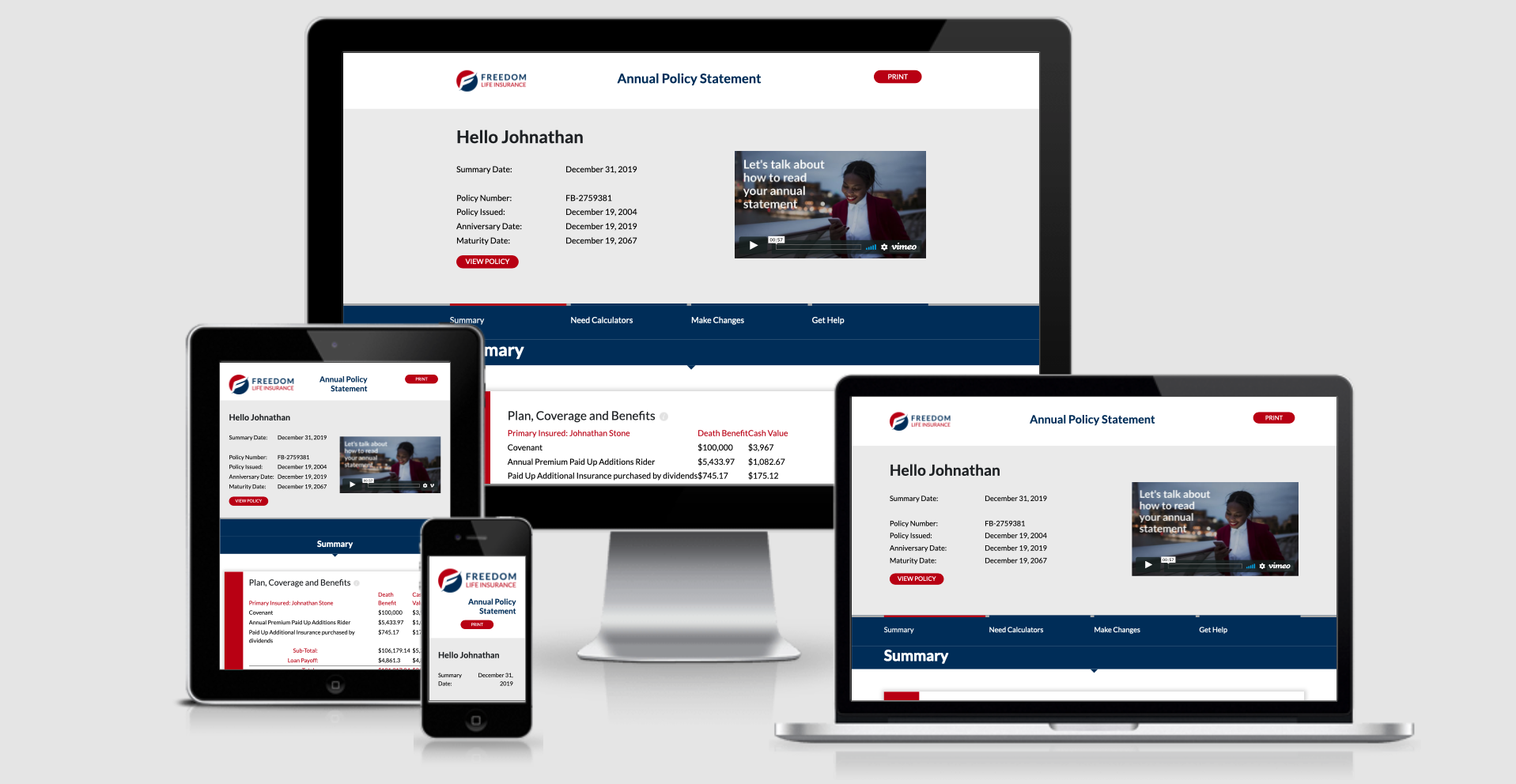 Email
In digital insurance communications, email is the most popular channel, and for a good reason. It allows insurers to deliver batch or on-demand communications quickly. Using this flexible channel, you can convey short or long messages.
With GhostDraft, insurers can create, modify, test, preview, and schedule email messages in the familiar authoring tool, Studio. These messages can include attachments that insureds can print and save. You can also link to other information from a website or customer portal. GhostDraft users have the power to create emails in dynamic HTML or plain text.
Using email, insurance carriers can deliver quotes, invoices, and other important communications to customers quickly while increasing engagement.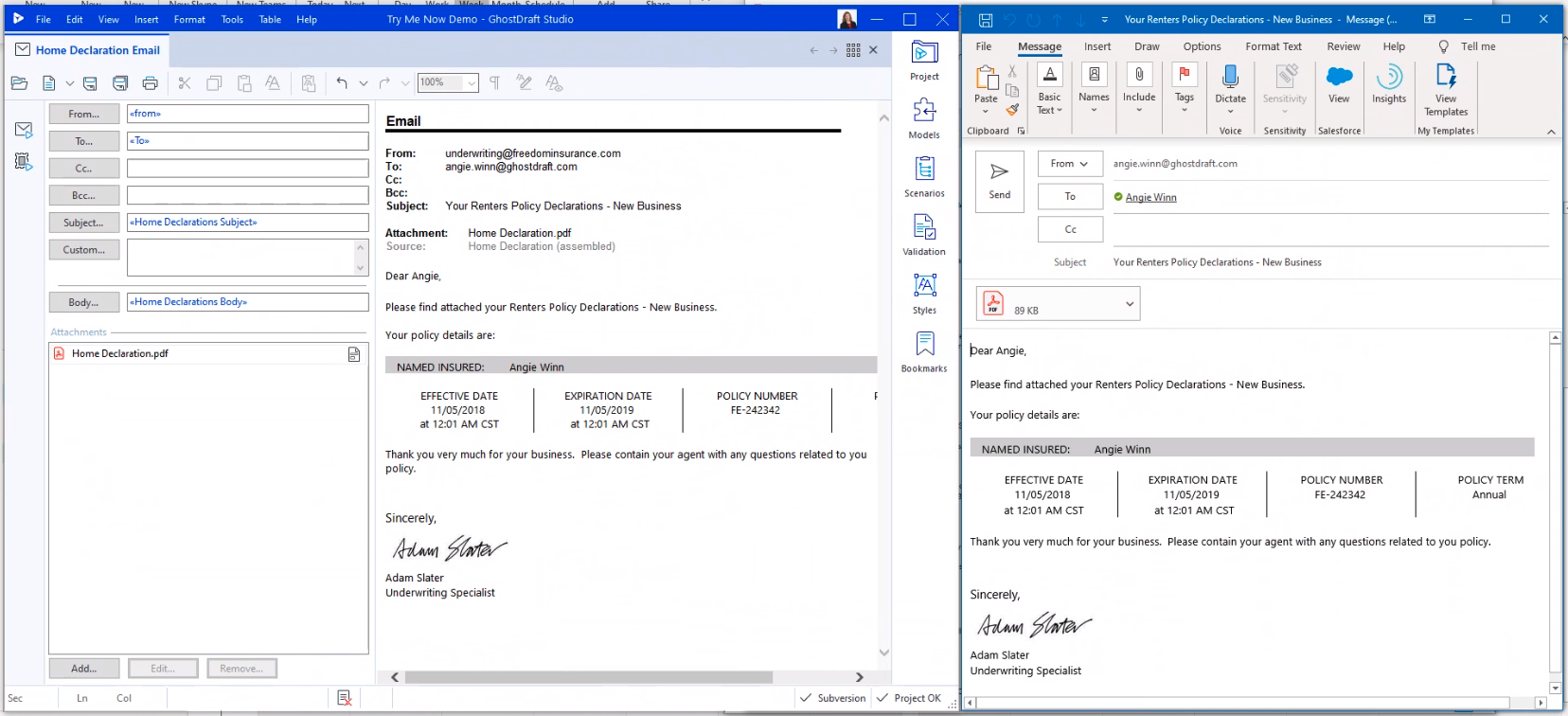 Text Message
Many insurers are starting to implement SMS (text messaging) into their communication strategy for fast and direct interaction with customers.
Using Studio, GhostDraft users can create secure text messages for batch or on-demand delivery. To enable flexibility, insurers can schedule SMS messages or send them instantly. Similar to creating personalized print or email communications, users can personalize text messages using business rules for higher levels of engagement.
Additionally, GhostDraft has integrated with SPLICE Software to provide you with automated two-way messaging. Using this platform, you can receive messages and multimedia from policyholders, automate responses and processes, and monitor conversations.
Using GhostDraft for text messages, you can offer an engaging experience while improving productivity.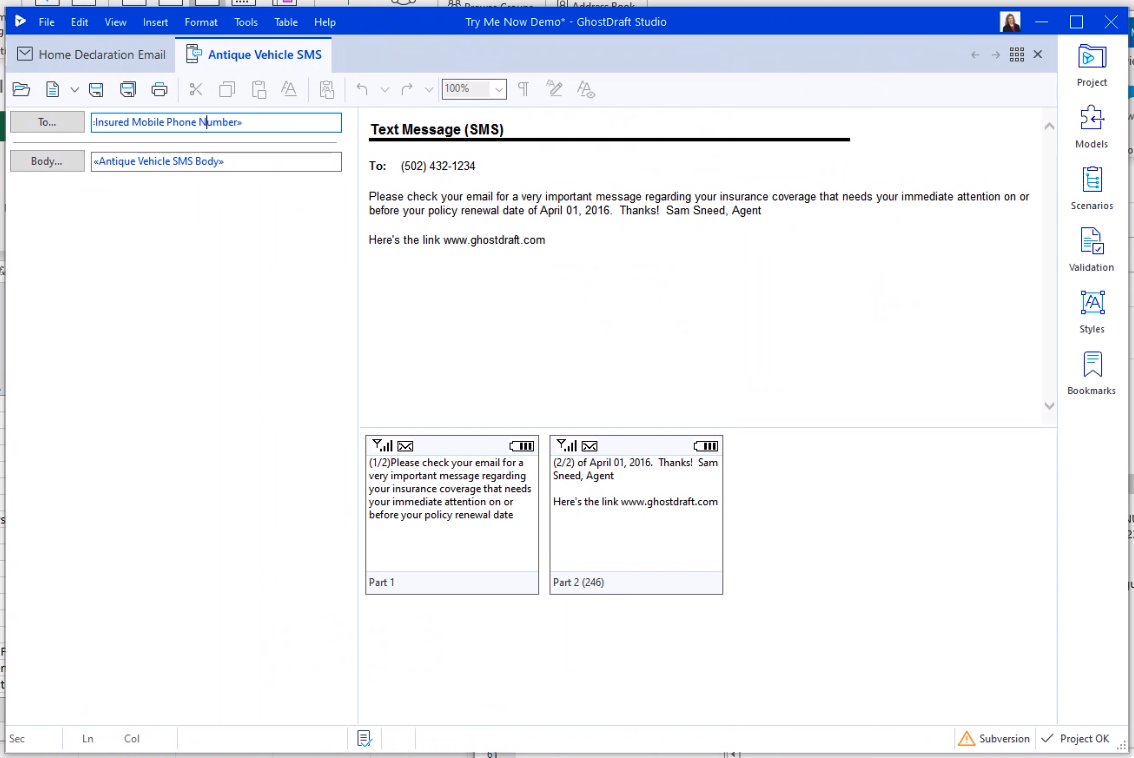 Social Media
Throughout this crisis, we've seen insurers use social media emergency alerts designed initially for events such as hurricanes to communicate important information to customers and stakeholders.
In today's digital world, carriers need to have a social media presence for brand awareness and frequent updates. Social media helps carriers build a dialogue with customers while handling feedback and comments.
GhostDraft offers users two ways to manage social media connections. This includes social media posts and direct messaging. GhostDraft supports social media posts for numerous platforms such as Twitter and powers insurers to send batch and on-demand messages through Facebook Messenger and WhatsApp.
Using workflows, you can send communications to a variety of channels simultaneously. This helps ensure you reach the right audience at the right time. For instance, you can create a workflow plan to generate an email to send to insureds as well as sending a brief alert via text message and a social media post.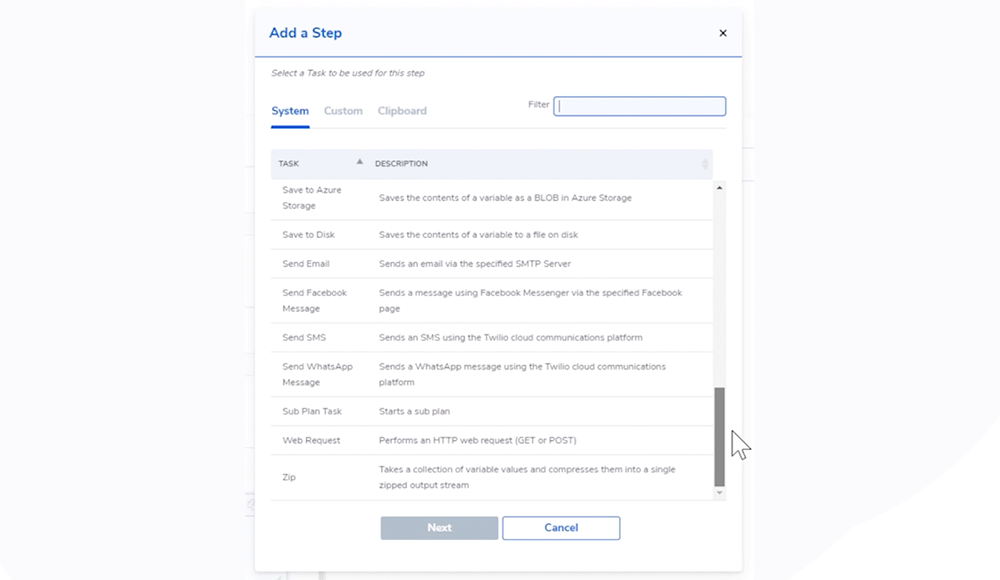 Get Help When You Need It
At GhostDraft, we understand the challenge of maintaining business as usual during these unprecedented times. That's why we offer flexible services to help you accomplish all your communications needs efficiently and effectively.
If you need help creating, delivering, or managing omnichannel messages, we are here for you. Our insurance CCM experts are ready to address any questions, concerns, or inquiries and help you create communications that connect. Reach out to get started with GhostDraft digital communications.
CCM Technology
Digital Experience
Need more info on our Solutions?
Find out how we can help you create better experiences, greater efficiency and more agility to ensure your business is always in touch.