Articles
5 Advantages of Cloud-Native CCM
Last updated: June 7, 2023 | 4 min read
Cloud technology is becoming more important than ever as insurers seek to take advantage of the quick provisioning, reduced costs and maintenance, scalability, and other benefits. In fact, 72% have either deployed or plan to deploy cloud solutions over the next 12 months.
Software as a Service (SaaS) customer communications management (CCM) technology enables carriers to meet the critical customer experience challenges that lie ahead in the next few years.
If you're one of those who is wondering if SaaS CCM is for you, we hope that this article will answer some of your questions.
What is Software-as-a-Service?
SaaS or Software as a Service, also known as software on demand, offers a connection and subscription to IT services built on shared infrastructure via the cloud, rather than installed locally.
In other words, the software that you want to use is delivered and managed remotely by a provider, and you get your access via your preferred web browser.
Key Benefits of SaaS CCM for Your Business
Reduced Cost
SaaS CCM operates on a pay-as-you-go method with no huge initial investment. You just pay an annual subscription fee to use CCM as a service. So, rather than a huge upfront expense, SaaS can be treated as an operating expenditure (which most CFOs prefer).
One of the most attractive advantages of SaaS CCM is that it can be a real money-saver. In fact, in terms of importance, "lower overall costs" is the second biggest SaaS adoption driver.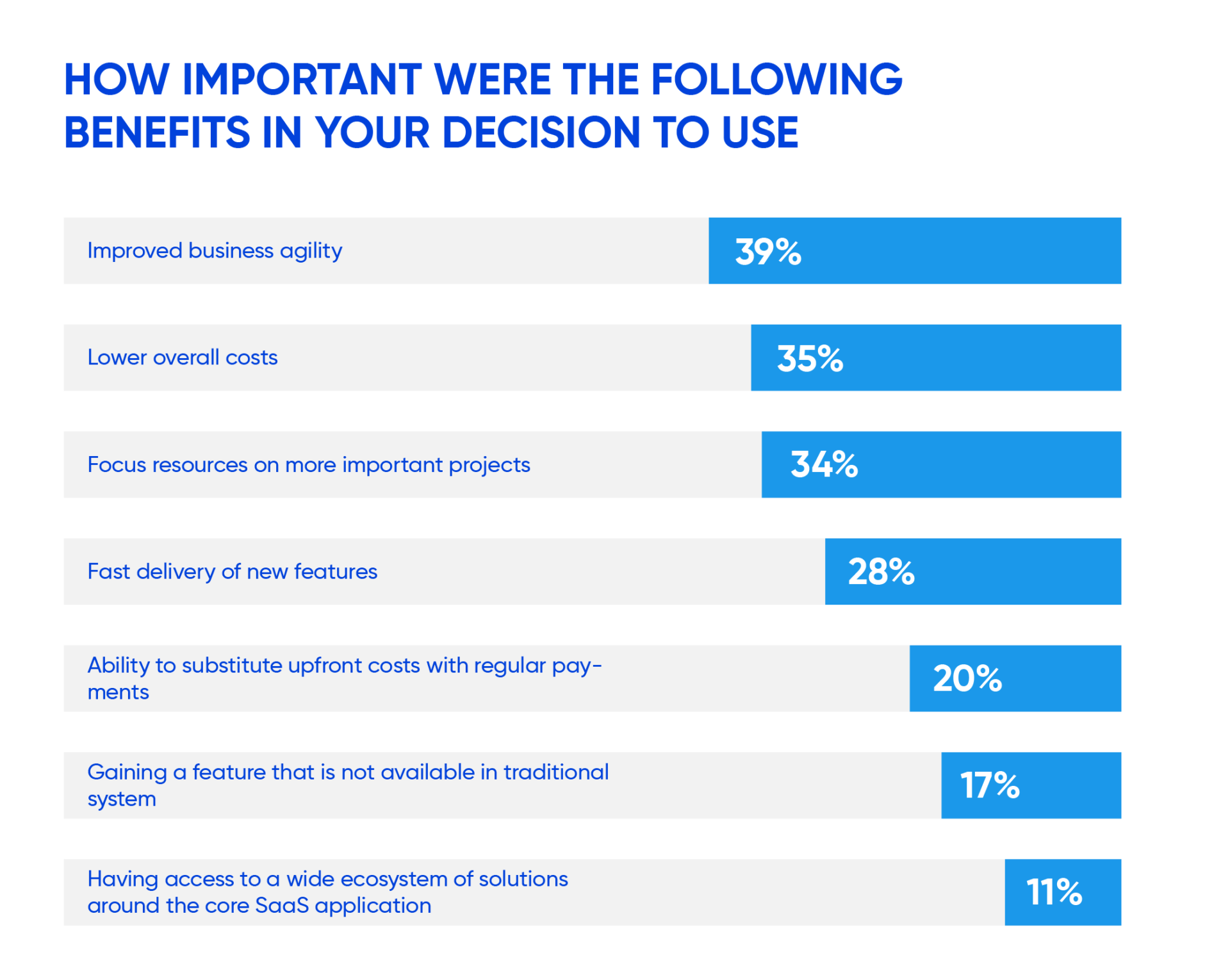 Many traditional CCM systems require maintenance fees, such as backup, updates, and security. The subscription-based pricing method includes unlimited users and access, maintenance and upgrades, and flexible support and services. This means your subscription entails virtually no hidden fees and a hassle-free IT life.
In other words – using SaaS CCM means you can forget about spending money and time on extra hardware, access, or maintenance.
Future-Proof
SaaS CCM systems by design incorporate the latest, greatest, cutting-edge technology. They are inherently devised to be used as discrete applications that you can integrate more extensively into the rest of your digital experience architecture.
Using SaaS CCM, you can reduce the technical risks of innovations, updates, and new technology that significantly future proofs your organization's investment.
Customer Focus
With the subscription pricing model, SaaS CCM providers are more incentivized to keep your business long-term. This means these technology partners focus on providing the best tools, support, and services for insurers.
In other words, SaaS CCM puts the success of insurers first.
Scalability
The SaaS approach to CCM is also well-suited for high-volume enterprise scale. The user interface is designed to incorporate mechanisms for addressing large volumes of content, including shared content libraries, test data, and other features that promote re-use.
These solutions also include numerous database optimizations to ensure that the user interface remains highly responsive, even with large messaging volumes.
Security
Security is a top concern for any insurer maintaining the privacy and integrity of their customers' personally identifiable information (PII). According to LogicMonitor, 66% of IT professionals say security is their greatest concern in adopting cloud computing.
For this reason, many SaaS CCM systems do not store customer data. Instead, they connect to other systems to use data to generate communications.
Cloud-native CCM solutions offer comprehensive security with backup and disaster recovery using secure cloud infrastructures like Microsoft Azure.
Suppose an insurer prefers to maintain data on-premise. In that case, you can choose an on-premise or hybrid cloud model to get the cloud's flexibility and the security of keeping data protected on-premise.
The Bottom Line
The benefits of SaaS CCM are many. Insurers worldwide are moving to the cloud, where they can easily subscribe to technology and enjoy a worry-free life.
When it comes to SaaS CCM, the key benefits are:
Reduced cost and maintenance
Increased focus on innovation and customer support and services
Reliable security and flexible scalability
So, if you are in the market for CCM software and looking for a SaaS application, then sign up for a personalized demo, and we'll show you how GhostDraft can help your business drive customer engagement that leads to increased growth, retention, and brand loyalty.
Need more info on our Solutions?
Find out how we can help you create better experiences, greater efficiency and more agility to ensure your business is always in touch.